Dosing Systems for Liquid Products
For the dosing of your liquid products, we offer latest dosing systems designed according to current hygienic requirements. GKS high-performance dosing systems are certainly tailored to the specific needs and products of our customers.
We will be happy to advise you in order to jointly determine the optimum dosing solution.
---
Rotary Valve Pump
Brief Description
particularly suited for products with medium viscosity
2 to 12-lane versions available
dosing volume infinitely adjustable via HMI
suck-back capability
recipe management for all settings
individual rotary valves with special slide coat
powerful design of dosing drives
state-of-the-art control technology, easy to operate via HMI
product tank with automatic filling level control
all parts in contact with the product are made of high-grade stainless steel approved for contact with food
use of seals approved for contact with food (FDA-compliant or comparable)
Variants / Options
hot-fill applicable
stirrer(s) in product tank
CIP/SIP cleaning of dosing system fully automatic without dismantling, cleaning routine configurable and memorizable
individual servo drives for each lane for small filling volumes and highest accuracy
combinable with laminar-flow-system
ATEX version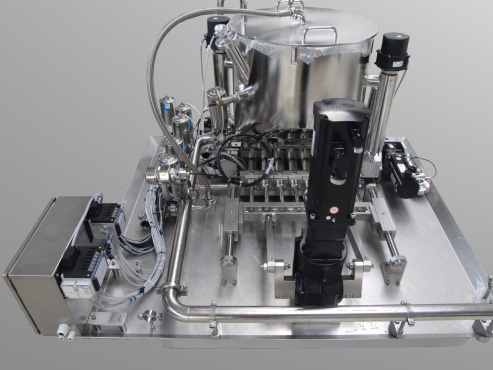 ---
Ball Valve Pump
Brief Description
particularly suited for products with low viscosity
1 to 16-lane versions available
individually self-sucking
separate products for each pump / lane possible
suck-back capability
simple and compact construction
dosing volume infinitely adjustable (mechanically)
drive by common servodrive
all parts in contact with the product are made of high-grade stainless steel approved for contact with food
use of seals approved for contact with food (FDA-compliant or comparable)
simple maintenance
Variants / Options
different sizes, dependent on filling range
also possible on separate mobile trolley
CIP/SIP cleaning of dosing system fully automatic without dismantling, cleaning routine configurable and memorizable
combinable with laminar-flow-system
ATEX version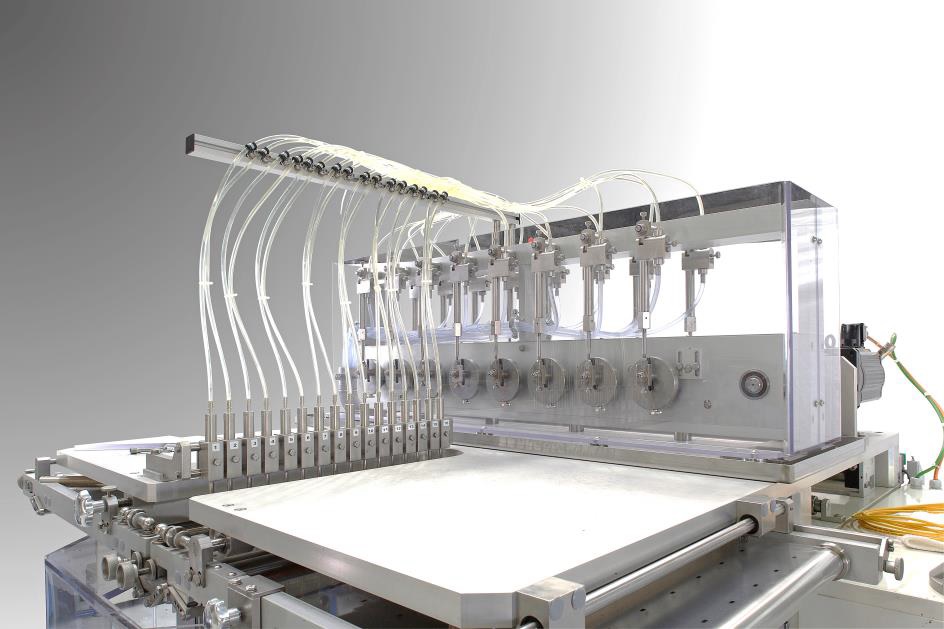 ---
Diaphragm Valve Pump
Brief Description
particularly suited for products with low viscosity and for abrasive products
2 to 12-lane versions available
dosing volume infinitely adjustable via HMI
suck-back capability
recipe management for all settings
powerful design of dosing drives
state-of-the-art control technology, easy to operate via HMI
product tank with automatic filling level control
all parts in contact with the product are made of high-grade stainless steel approved for contact with food
use of seals approved for contact with food (FDA-compliant or comparable)
low maintenance
Variants / Options
hot-fill applicable
stirrer(s) in product tank
CIP/SIP cleaning of dosing system fully automatic without dismantling, cleaning routine configurable and memorizable
individual servo drives for each lane for little filling volumes and highest accuracy
combinable with laminar-flow-system
ATEX version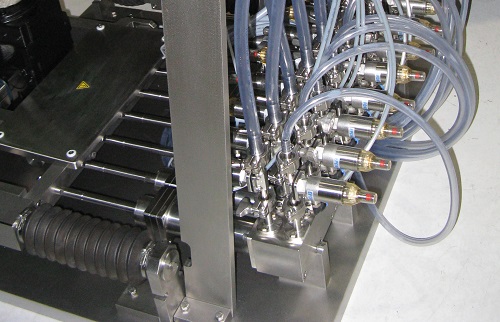 ---
Pressure Tank Dosing
Brief Description
particularly suited for products with medium viscosity and high speed
suitable for food and pharmaceutical products
only in combination with closable filling tubes
1 to 12-lane versions available
dosing volume infinitely adjustable via HMI
recipe management for all settings
settings individually adjustable per lane
state-of-the-art control technology, easy to operate via HMI
product tank with automatic filling level control
all parts in contact with the product are made of high-grade stainless steel approved for contact with food
use of seals approved for contact with food (FDA-compliant or comparable)
very low wear due to only a few moving parts
Variants / Options
hot-fill applicable
stirrer(s) in product tank
CIP/SIP cleaning of dosing system fully automatic without dismantling, cleaning routine configurable and memorizable
combinable with laminar-flow-system
ATEX version